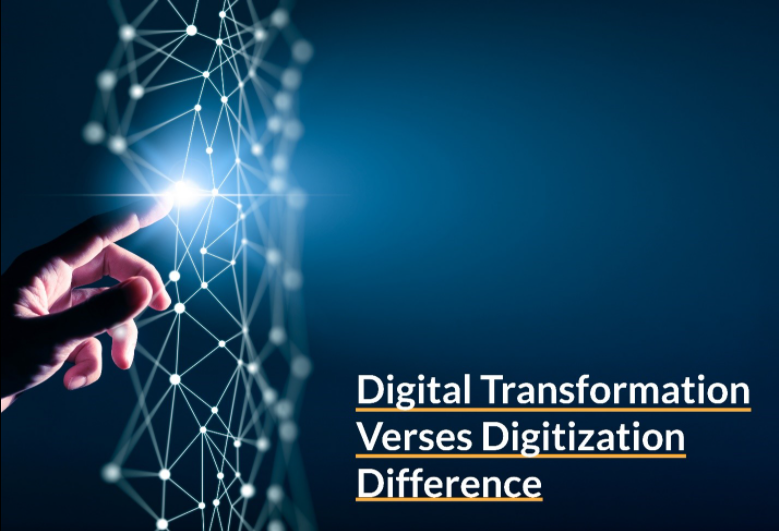 Digital transformation verses Digitization – Difference
Businesses are starting to realize that the manufacturing ecosystem and supply chain are outdated, making logistics improvement solutions more needed than ever. A lot of people are actually using digitization and digital transformation interchangeably but that is not right.
Due to the many definitions in different industries, digitization and digital transformation are often confused as the same term. Therefore, clarifying the ambiguities between digitization and digital transformation is essential for the companies before committing to any digital-related investment.
Digitization and digital transformation are two different terms, yet they are interrelated. 
Digitization is the procedure of converting information from an analog or physical format to a digital format. It is the initial step towards digitalization. Digitization is the creation of a digital copy of physical objects like documents using scanners, for example. It is the first step towards the digital transformation of business. Taking this step is very important; otherwise, you will lose opportunities, like becoming an agile business or gaining a competitive advantage.
What is Digital Transformation?
Digital transformation is applying a chain of human and technological changes to reorganize the current business models, thus generating new values ​​and opportunities for companies. Digital transformation is the profound and accelerated transformation of processes, activities, business models, and skills to take full advantage of the changes and opportunities offered by digital technologies and their impact on society in a prioritized and strategic manner.
Difference between Digitization and Digital Transformation
The concept of digitalization excites some people and scares others. Digital transformation is essential to boost productivity and avoid letting go of the competition; you can still doubt its depth. The process of converting information from an analog or physical format to a digital format is digitization. When this procedure is used to enhance the business processes, it is referred to as digitalization. Both digitization and digitalization are an element of the digital transformation. This digital transformation comprises all the business aspects, such as understanding customers, growth strategy, digitalization of processes, mobile enterprise applications, worker empowerment, new business models, and performance, etc.
Digital transformation is similar in the application of technologies to enhance business processes. It is the transformation of activities, processes, business models, and products to take full advantage of the opportunities of digital technologies. The primary aim is to manage risk, enhance efficiency or discover new monetization opportunities. Considering the digital transformation, business areas and processes are also analyzed, but understanding goes beyond merely adapting to new digital technologies. In digital transformation, solutions are sought, or problems are solved using technology.
The digitization of a company generally leads to a dynamic of innovation, allowing it to be more aware of new trends and the possibilities offered by new technologies. Innovation will not only be based on digitization but will also help to achieve it. The capabilities offered by digitization in the company cover many areas, one of which is improving working conditions. New work options, such as flexible telecommuting or working hours, require digitization support to implement them. Digital transformation forces to act, and once started, the inertia will make it difficult to stop it.
Benefits of digital transformation
Digital transformation provides a number of benefits. Some of its benefits are mentioned as follows. Let's have a look at them one by one.
Digital transformation establishes a system to collect the right data and fully integrate it into business intelligence at a higher level.
It creates a method by which different functional units within the organization can translate raw data into knowledge through various focal points.
Data-driven customer information
Data can be the main factor for unlocking customer information. Data allows the strategies to provide more personal, agile, and relevant content. With a better understanding of the customer and their needs, you can create a more customer-centric business strategy.
Digital transformation promotes digital culture with better collaboration. Digital transformation fosters a digital culture by providing the team members with the required tools which adapt to their environment. This culture will be crucial in the future. It forces the team members to improve digital learning and skills to reap the advantages of digital transformation.
Having the right technological tools that can work together can simplify workflow and enhance productivity. The automation of many manual tasks and incorporating data across the organization enables the members to perform more efficiently.
Benefits of Digitalization
Digitization provides a number of benefits. Some of its benefits are mentioned as follows. Let's have a look at them one by one.
This is perhaps the most apparent feature. For some companies, this presence is at the center of their digital strategy, and they have shifted their business from traditional routes to online commerce, with all that that implies.
Digitization helps to make better decisions. It goes hand in hand with data management, data is knowledge, and knowledge leads to better decisions. The digitization of companies allows continuous communication with the customer, which will enable us to get to know him better thus resulting in better end products and a good relationship with customers.
Better productivity and efficiency are some of the main benefits of digitization. You have more information, allowing you to make better decisions and technological tools to make your job easier. When used wisely, business digitization can lead to significant productivity gains and lower costs.
Facilitates communication and teamwork
By aligning goals and opening up new communication channels, the digitalization of the company improves internal communication. It can be observed through teamwork that will be necessary to implement digital transformation measures and through basic options such as the implementation of an internal conversation. Remember, this is why they are called the era of telecommunications today. 
Digital transformation is broader than digitization as a means to go digital. We need to build more bridges in a global digital transformation strategy. Digital transformation was originally used to describe the transformation of paper into digital information