Hybrid Cloud Managed Services
With managed hybrid cloud solutions, businesses can regain control of their cloud while reducing needless costs. To survive in a changing world, organizations require a flexible and agile IT infrastructure that can bend and develop at speed and scale. Hybrid Cloud Managed Services link to every major cloud provider on every continent, allowing services to be delivered in days. This can give even more agility to your data, similar to how SD-WAN provides better agility for the network. Hybrid Cloud Solutions give organizations the option and power to manage their data across hybrid clouds, picking the most efficient, industry-appropriate environment.
Compute
Compute is a catch-all phrase for anything involving the delivery of computing resources over the internet. On-demand access to enormous quantities of computer power is available to users. Users can buy by the minute or by the hour and utilize as much or as little as they need for their computer needs.
Storage
Storage infrastructure management refers to the administration and monitoring of storage devices in data centers. Capacity, performance, and availability are the three key aspects of management.
Backup
Cloud backup protects business data from ransomware, hackers, and human error. Cloud backups make restoring software applications simple. This guarantees that the business operations continue to function normally in the case of a data breach.
Cloud
A cloud-managed service is a solution that provides professional resources to manage an organization's IT infrastructure and internal functions. These services are provided by working with an MSP (managed service provider) via cloud servers.
Cyber Recovery
Cyber Recovery is a data security solution designed to mitigate the risk of data loss as a result of ransomware and other major cyberattacks. Cyber recovery duplicates and isolates critical data to mitigate the effects of a cyberattack on the organization.
Network
Network infrastructure is a vital component of an organization's IT infrastructure since it is a larger collection of core components that work together to run an IT network.
Containers
A container is a small package that includes one program and its dependencies, making it easier to create, deploy, and manage apps in a complex IT environment. Container management facilitates the addition, replacement, and organization of containers on a large scale.
Salesforce
Salesforce Managed Services allows customers to focus on growing their business without having to worry about background duties like frequent upgrades, security checks, and other Salesforce administration tasks.
Flexible Managed Services
Companies are embracing digital technology to create new and creative business models, shorten time-to-market, improve corporate processes, empower their employees, and customize the customer experience. Integrating IT with the business is critical to an organization's success on the digital journey. Managed IT services support the organization with its fundamental operations and systems, plus they will create new efficiencies, lower costs, accelerate operations, and more. Flexible Managed Services is a comprehensive, integrated package of services that allows the business to manage its dispersed and hybrid IT infrastructure.
CTS's Flexible Managed Services offers an organization the ability to augment or scale its existing Service Desk offering by adding either function or staff in a cost-effective manner by utilizing our staff, facilities and infrastructure.   One monthly cost per resource provides not only people, but also Internet access, a place to work, all HR support, a computer, and high-quality noise-cancelling headphones.    All our resources are screened for excellent interpersonal and English language skills along with technical expertise.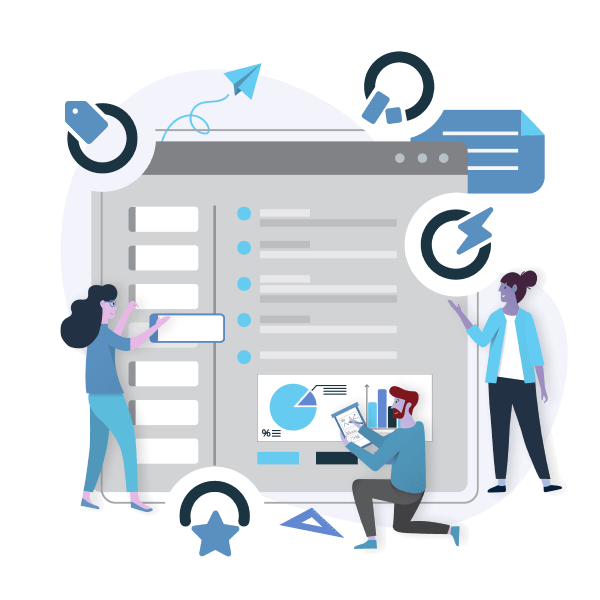 Tier 0 – Basic IT skills, ability to interface with customers, open and escalate service tickets, perform initial scripted problem determination.
Tier 1 – Intermediate IT skills in one or more subject areas, ability to trouble-shoot and resolve more complex issues.
Tier 2 – Advanced configuration and problem solving skills.
Shift Lead – Tier 1 technical skills and leadership of on-shift staff.
Project Coordination – similar levels of skill to the technical tiers, providing resource coordination as well as project coordination for large customer roll-outs or ongoing upgrades/implementations
Service Delivery Manager – Provides leadership, guidance, and other support to the team members.   Manages high-impact customer problems and engages customer or other support staff to efficiently resolve issues
Program Delivery Manager – Manages the ongoing customer relationship and provides executive level escalation and interface.   Also prepares and delivers regular weekly and monthly reporting.
While cloud computing offers a number of benefits, such as scalability, agility,…
Read More