VTG's Product Engineering services provide the skills and resources to develop or upgrade software products with the quality, reliability, security and short lead times you need for successful digital transformation. Our collaborative approach covers the complete spectrum from consultation and strategy, through development, design and testing to rapid release.
Delivering high-quality software to meet scope, timescale and budget
Best practice in development, performance engineering, user experience and testing
Automated platforms to accelerate development and reduce time, effort and costs
Integrated teams of solution consultants, business analysts, user experience specialists, architects, developers, testers, release engineers and project managers
Innovative approach to maximize product enhancement, differentiation and benefits
Our Service
Offerings
Consulting
We assess your business, technical and operational needs, and provide expert advice on product strategy. As part of the process, we evaluate existing software and develop a roadmap for innovative new solutions or re-platforming, re-engineering and customization of existing products. Business analysts and user experience specialists focus the development team on solutions that will meet or exceed your customers' expectations. Our Engineering Consultants prepare development plans that ensure the solutions align with your digital transformation goals and minimize lead times.
---
Benefits
Access to expert software engineering advice

Clear roadmap and product strategy

Greater focus on innovation and new product development.

Faster time-to-market.

Closer alignment of business and operational requirements
Product Development
VTG's Product Development services provide end-to-end engineering support for your project. We have the skills and resources to accelerate delivery of high-quality software with robust, scalable, extensible architecture. Our skilled, certified engineers use high levels of automation, DevOps processes and industry best practice to deliver a Minimum Viable Product and obtain early market feedback. The comprehensive service includes technology roadmap definition, design, development, rapid prototyping, technology evaluation and adoption, performance and security engineering, test automation, infrastructure automation, sustainability, compliance and certification.
---
Benefits
Access to specialist R & D talent and resources

Comprehensive service from a single source

Automated development and design processes to reduce lead times

Shorter, faster development lifecycles

Assured quality through automated testing

Better use of your own resources
Re-Platforming
Your existing products may not have the performance, functionality, scalability or reliability to meet the changing expectations of your users and customers. Our Product Engineering specialists can help you transform those products using skilled, quality-led re-platforming processes. Our engineers are skilled in reverse engineering, re-documentation, restructuring, translation, and forward engineering. VTG's Re-Platforming services modernize product technology and architecture, and focus on key features such as the user interface. The result is new, improved solutions that improve functionality, performance, security and reliability.
---
Benefits
Access to re-platforming expertise

Improved software performance and functionality

Cost-effective transformation of existing products

Better return on original software investment

Meets changing user and customer expectations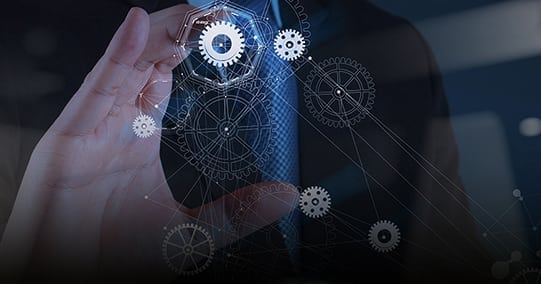 Business Application
Effective business applications are an essential element of digital transformation, enabling employees to work productively and collaborate easily. VTG's Business Application service develops or customizes cloud-based software solutions that enable employees to work efficiently anywhere on any device. Business Application engineers collaborate with you to develop new applications or customize packaged solutions from leading vendors to meet specific business and technical requirements. They ensure that software operates successfully on your preferred platforms and they can integrate the new solutions with existing applications.
---
Benefits
Access to application development skills

High-quality business applications to improve productivity

Cost-effective customization of packaged applications

Better alignment of business and operational requirements
96%
happy clients
300+
employees
6
Awards
50+
Completed Projects
Keep Pace with Rapidly Changing Market Demands and Technology Trends
The new generation of software solutions takes full advantage of the latest developments in device mesh, machine learning, analytics, big data and cloud technologies. And, customers are moving from product to service models by adopting an SaaS strategy. Developing new software solutions in this rapidly-changing environment requires high levels of market understanding and engineering expertise. By partnering with VTG's Product Engineering specialists, you can ensure that your software solutions have the performance, security and scalability to drive digital transformation even faster.
We Love Making Our
Customers Happy
"Virtual Tech Gurus is an incredible, talented team whose deep knowledge of technology has provided our customers with added insight into architecture and infrastructure improvement. They also have a unique ability to discuss strategic concepts at the CxO and VP level while still able to discuss implementation and technical details with DBA, host admins and storage professionals.
They have worked with our team to help develop solutions with tangible returns for our customers and partners for several years and their insights are invaluable to our technical sales team."
- Technology Account Manager, EMC Corporation
"I want to let you know how happy I am with the work performed by Virtual Tech Gurus Consultant at my customer site. He exceeded all expectations !!! He did a GREAT JOB !!"
- Project Manager, EMC Corporation
Data protection and security are crucial since they are the lifeblood of…
Read More
Consulting

|

Product Development

|

Re-Platforming

|

Business Application
VTG has the expertise and experience to support your product development program with comprehensive Product Engineering services that deliver innovative new software solutions and transform legacy products.